Feta cheese and fancy cucumber cups
Second semester is underway. First up: Garde Manger and Culinary Spanish. In Garde Manger we had to make 200 hor d'oeuvres for an event on our schools main campus. Chef told us at the beginning of class that we would do 50 each of four different kinds, but when we got into class, he only told us three kinds to make. While everyone was working away on the stuffed cherry tomatoes, ham rolls, and salami cone things (I forget what he called them), I had the awesome idea to make a recipe I make for my family all the time. Its called Greek Salad Bites in the cook book I found it in, but I always just call it feta cheese dip. I ran the idea past Chef, and he said as long as we had all the ingredients, we could make it! I was so excited (and I'm not gonna lie, I'm still feelin pretty proud about it). They went over quite well :)
Feta Cheese Dip
1 cup crumbled feta cheese
1/2 cup sour cream
1/4 cup fresh parsley
2 tablespoons oil-packed sun dried tomatoes, drained and finely chopped
2 cloves garlic, minced
1/4 cup fresh basil
Salt and pepper to taste
English cucumbers
Pita chips
In a food processor, combine garlic and sun dried tomatoes. Pulse until they become sort of paste like. Add parsley and basil, pulse until herbs are finely chopped. In a separate bowl, mix sour cream and feta. Stir in tomato/herb mixture. Taste, then season (you may not need salt, feta is pretty salty cheese). Serve with pita chips and sliced cucumbers.
For the event, they needed to be fancier than chips and dip, so we made cucumber cups.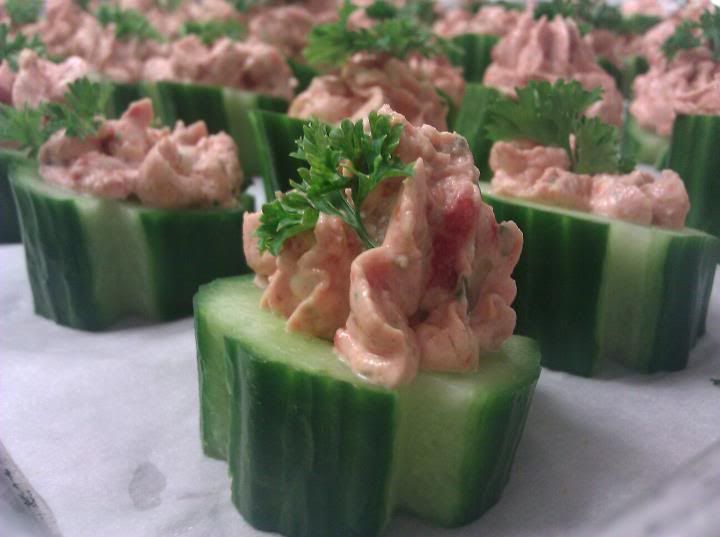 We got the cool design using a chanel knife (which is kind of like a peeler, with a V cut out). You can get the same effect by just using a peeler and peeling off every other section. Then cut the cucumbers. Cut on an angle, then straight, then the opposite angle. This creates a flat bottomed slice with an angle on top. Then, with a melon baller (or a small teaspoon), scoop out some of the inside of the cucumber. Pipe or spoon dip into the cup.
---
kerlinquallb likes this
carpecibus posted this
---